What is Wedding Photography
Wedding photography is the art of capturing the special moments and emotions of a couple's big day. A wedding photographer's job is to document the wedding day and create a visual story that the couple can cherish for years to come. This involves capturing a range of images, from candid shots of the couple and their guests to posed family portraits and detail shots of the wedding decor. A skilled wedding photographer will use their creativity and technical expertise to produce beautiful, high-quality images that truly capture the spirit of the wedding day.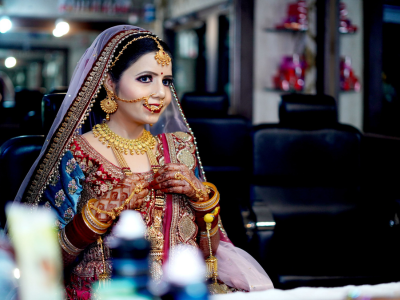 Wedding Shoot in Allahabad
Capturing Your Love Story in Beautiful Moments
If you're looking for a skilled and experienced wedding photographer in Allahabad to capture the special moments of your big day, look no further than our wedding shoot services. We understand that every wedding is unique and special, and we work closely with our clients to create a custom photography package that fits their individual needs and preferences.
Our team of professional photographers has a keen eye for detail and a talent for capturing the beauty and emotions of your wedding day in stunning photographs. We use state-of-the-art equipment and techniques to create images that are both timeless and contemporary, and we pride ourselves on providing a high-quality and stress-free experience for our clients.
Whether you're planning an intimate ceremony or a grand celebration, we are committed to creating photographs that you will treasure for a lifetime. Contact us today to learn more about our wedding photography services in Allahabad.
Our experienced photographers are trained to capture the essence of your relationship and create photographs that reflect your unique style and personality. We work with you to understand your vision and preferences, ensuring that we capture the moments that matter most to you.
We use only the latest and best photography equipment, including cameras, lighting, and lenses, to ensure that your pre-wedding photographs are of the highest quality. Our editing techniques are also top-notch, ensuring that your photographs look beautiful and flawless.
At our pre-wedding photographer services in Allahabad, we take great pride in our commitment to customer satisfaction. That's why we offer personalized services that are tailored to meet your individual needs and preferences. We work with you to understand your style and personality, ensuring that your photographs reflect who you are as a couple.
We offer competitive pricing to ensure that you get the best value for your money. We also offer flexible scheduling to accommodate your busy schedule, ensuring that your pre-wedding photography session is convenient for you.
So if you're looking to capture the beautiful moments of your love story, come to our pre-wedding photographer services in Allahabad. Let us help you create lasting memories that you'll cherish for years to come.
Here is the glimpse of our work!
Hire the Best Wedding Photographer
Let's have a chat so we can assist you with how we can help you. Just give us a ring and we will connect with you shortly.